Accomodation facilities in
beautiful

surroundings
Even though you are away from home, then it is a plus when surroundings are pleasant, cozy and exquisite. These are three words that characterizes Thyborøn in more than one way. Beautiful nature with a great variety of possibilities, a broad selection of quality accommodation and an equally broad choice of cafes and restaurants with both a local and international twist that is tempting visitors from a large catchment area.
Thyborøn Camping Hotel og Hytteby, Thyborøn Hotel and Danhostel Thyborøn are some of the many quality options that Thyborøn has to offer related to accommodation. We have a long line of restaurants, cafes and accommodation that complement each other by setting the bar high for their guests, no matter if they are local, tourists or clients to the harbor who need accommodation or provision of meals in our attractive community.
The freshest of fish is landed here in Thyborøn, something that the entire country benefits from. Many of the delis from producers in the North West part of Jutland can be bought in local shops.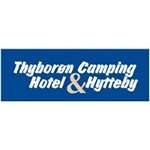 Thyborøn Camping Hotel og hytteby
At Thyborøn camping we have 100 units for caravans and tents. The site is newly renovated with modern toilets, bath and kitchen facilities.
Also read
We also offer
solutions

within